Cockpit Posters
SimFly's cockpit posters are an essential tool for a pilot's training. These valuable training aids will assist the pilot to become familiar with the aircraft cockpit layout and to practice and perfect their scan flows to ensure they are adequately prepared before entering the flight simulator or aircraft.
Our highly detailed vector based graphic illustrations have been drawn by our team of graphic designers and capture all the fine detail of the aircraft cockpit which includes all of the instruments, annunciators, gauges, switches, markings, placards, colours and even screws. Using high quality large format printers our graphics are printed on a 180GSM matt coated paper, which is ensures our poster sets are durable enough for repeated use and able to be easily transported in a regular post tube. Also available to our customers, is an optional lamination service to protect and ensure the longevity of your new valuable training asset.
A range of poster sizes and configurations are available ranging from small desktop posters through to large scale full size wall posters and many other options in-between. We specialise in customised illustrations to suit our customers specific needs or their aircraft cockpit configuration, so please contact us to discuss how we can assist you with your training needs.
Purchases can be made via our online store for small quantities, however SimFly also supplies training aids to an increasing number of airlines and flight training providers around the world. We offer discounts on bulk orders and can despatch orders with priority around the globe using our express international courier DHL.
Student Desktop Cockpit posters
The Student desk size poster is suitable for classroom training and fits neatly on the desk under the usual pile of text books for quick reference during technical ground schools.
All aircraft panels included on the one page. Lamination highly recommended to increase the longevity of your poster and also allows the use of dry erase markers.
Poster Dimensions:
910mm x 550mm
1 Page cockpit poster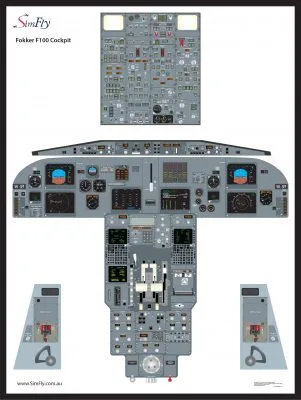 The 1 page poster set is intended as display artwork suitable for picture framing.
Illustration detail is reduced to allow fitment of all aircraft panels on the 1 page unlike our other training posters.
Poster Dimensions:
1000mm x 700mm approx (Varies depending on aircraft type)
2 Page cockpit poster
The 2 page poster set which shares the same size instrument panel as the 3 page poster set and the Overhead Panel and Centre Pedestal reduced in size to fit on the one page.
The poster size is ideal for those with limited space but still want maximum detail with a larger image size than the student desk poster.
Poster Dimensions:
Instrument Panel: 914mm x 450mm
Overhead & Pedestal Panel: 914mm x 450mm

3 Page cockpit poster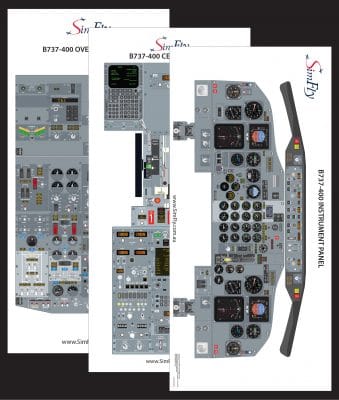 The 3 page poster set is an alternate to the full size cockpit poster set and has proved to be the most popular choice of our customers. .
Each panel is printed on its own page in a size that displays maximum detail of all instruments, gauges and placards.
The posters size allow them to be attached to a wall in the same configuration as the aircraft and are perfect for scan flow practice.
Poster Dimensions:
Instrument Panel: 914mm x 450mm
Overhead Panel: 914mm x 450mm
Pedestal Panel: 914mm x 450mm
Fullsize cockpit poster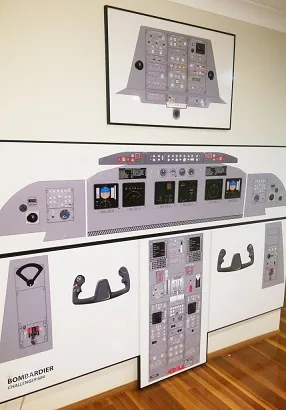 The Full size wall poster set is 1:1 scale of the actual aircraft generally used by flight training centres in their briefing rooms.
Maximum detail and realism is achieved at this scale.
Cockpit customisation and inclusion of company logos available. Two different wall mounting options available (Powder coated aluminium frame with hanging system or flush mounted composite panel.)
Size varies depending on aircraft type.